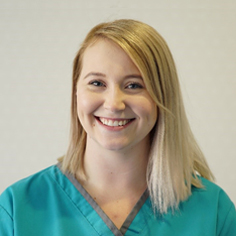 Dental Assistant/Front Office Co-ordinator
Sometimes our career paths are pre-destined at a young age, and only when we take a step back and reflect on the journey we've taken to get where we are now, do we see the connection. So, the fact that Danielle was one of those rare children that loved going to the dentist, it seems only natural she would become part of the dental world.
Danielle says she has always wanted to work in the health care industry, and the best things about her job are relating treatment options to patients in a way that makes them feel reassured and at ease, and helping her patients feel comfortable when in the dentist chair. Plus, with over 7 years' experience in the industry, Danielle's talents are refined instruments of excellence.
When Danielle is not putting patients at ease in a consultation or in the chair, she likes to let her hair down by spending time with friends and family, singing (karaoke of course), attending concerts and catching up on the latest TV shows.