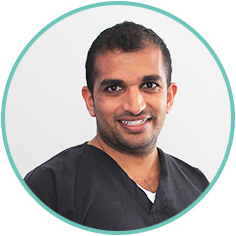 Dent (Hons) B. Med. Sc.
Dr Nair has special interest in orthodontics and cosmetic dentistry
Born in Camden and growing up in the Campbelltown area, Ashwin is grateful that he is able to give back to his community.
Ashwin graduated with honours in Dentistry from the University of Sydney in 2010, having completed a Bachelor of Medical Science at the University of New South Wales.
In addition to interests in orthodontics and cosmetic dentistry, Ashwin particularly enjoys working with children. He takes great pride in providing high quality dentistry in a gentle and friendly manner.  As his clients would attest he has proven to be highly knowledgeable about all procedures and technologies.
Ashwin brings a relaxed and gentle attitude to his work, along with a keen eye for detail and has a strong commitment toward continuing education.
Outside of dentistry, Ashwin loves anything to do with cars and motorsports, and supplements his motoring passion with a keen interest in music. He plays and teaches the violin, and is an active member of a number of different bands in Sydney.