Dentistry is not only about maintaining optimal oral health; it can also be about creating an aesthetic smile. Cosmetic dental treatments have been taking over the world of dentistry as people are now noticing how much a nice smile can bring a look together.
Cosmetic dentistry can take your smile to the next level. However, much like other cosmetic treatments, it can be taken too far.
Here are some common mistakes that people make that take their cosmetic dental treatments too far:
Over whitening teeth – Often, people can get too excited about teeth whitening treatments. While they're on the hunt for a bright sparkly smile, they can take it overboard and end up with an overpowering glowing white smile; like Ross from "Friends" in "The one with Ross's teeth"
Ross, character from Friends – teeth whitening
Poorly coloured veneers – Similar to over whitening teeth, another common mistake is choosing an unrealistic shade for veneers. Veneers that are too white are not only distracting and overpowering, they also will not look cohesive with the rest of your natural teeth and skin tone.
'Fake' looking veneers – Fake, or plastic looking veneers can be the result of poor materials, wrong colour, wrong shape, or all of the above. Veneers are meant to perfect your teeth, and much like skin or hair; when it looks too perfect it looks unnatural.
Callum Izzard – veneers
Overly shaped veneers – Veneers are meant to mimic natural teeth, which are organically shaped. Occasionally, you might see veneers that are square shaped, too harshly straight at the bottom, or simply too big compared to the rest of the natural teeth. This results in very awkward looking teeth.
For those who wish to get the most flawless looking results out of their cosmetic dental treatments; here's what people do to avoid those common mistakes:
Emma Roberts – whitened teeth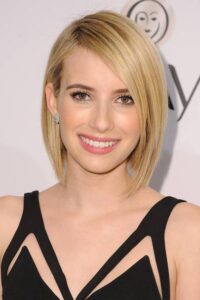 Choose the right shade – One rule of thumb to follow when getting veneers or your teeth whitened, is to not go whiter than the whites of your eyes. That way your face has balanced emphasis and your teeth will still look bright, but not overpowering.
Choose the right shape – When getting veneers, compare your natural teeth to your desired smile. Do research on what teeth shapes compliment different face shapes. For example; longer veneers will balance out a rounder face and shorter veneers will balance out a longer face. Try to find a happy medium between sharp edges and round edges that look good on your face. When in doubt, consult your dentist.
Cardi B – veneers
Choose a reputable dentist – Speaking of consulting your dentist; make sure to choose a reputable, well experienced dentist for cosmetic treatments. If your dentist aims for a natural looking enhancement; that is key.
Contact us
At Somerset Dental Care, we are highly experienced in the field of cosmetic dentistry. By prioritising correcting imperfections in teeth, we strive to enhance smiles while still keeping them natural looking and providing our patients in Narellan and Sydney, with a result that they are happy with. For more information on our cosmetic dental treatments, or to book an appointment, get in touch with us!
Don't forget to share this via Twitter, Google+, Pinterest and LinkedIn.