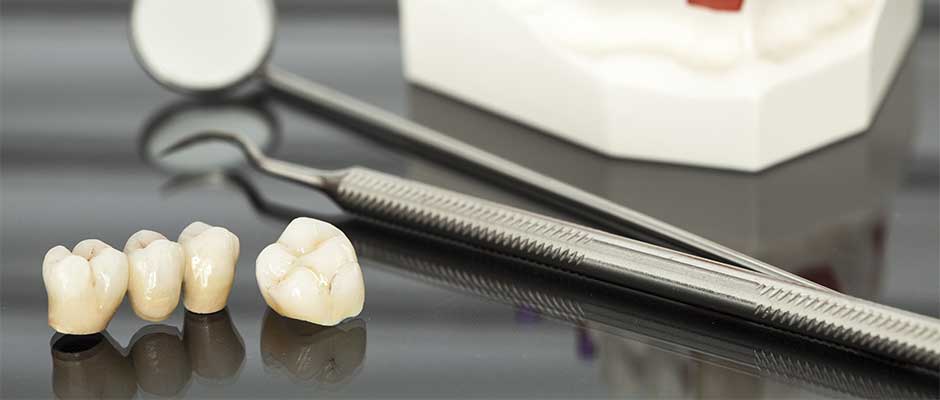 Crowns and bridges are an effective solution for repairing chipped, cracked and broken teeth
Dental crowns are also a great cosmetic option if you would like to conceal an imperfection like unsightly stains and discolouration. But, do you know the difference between a crown and a bridge?
Read on to find out what each of these treatments involves, and which one is right for you.
What is a dental crown?

Crowns are a type of dental restoration that can be used for a wide range of reasons. They are also known as dental caps or tooth caps, and work by completely covering the tooth above the gum line. They are generally recommended in cases where a tooth needs to be restored either for strength or cosmetic purposes. They can also be attached to a dental implant. Dental crowns are custom-made to match the shade and shape of your natural teeth and will look and feel completely normal.
Crowns are made from one of several materials, including metal, porcelain, ceramic, resin, or a combination of these. We will advise you of the best type for your needs, depending on your budget and aesthetic expectations.
Why opt for a crown?

You may need a crown if you have suffered a dental injury that has caused a cracked or chipped tooth, or if you have a cosmetic imperfection (such as discolouration) you would like to conceal. If you have a tooth that has weakened as a result of decay, clenching, or grinding, or if you have undergone root canal therapy, we may recommend a crown to help restore strength, function, as well as a more pleasing appearance.
What is a dental bridge?

Dental bridges are multiple crowns that are joined together. They may be used if you are missing more than one tooth, as they work by bridging gaps and replacing missing teeth.
Bridges are secured to the natural teeth or implants surrounding the empty space left by a missing tooth or teeth. Bridges come in a variety of materials. We will advise you of the best option for your particular needs.
If you are missing all of your teeth from either the upper or lower arch, we may recommend that you opt for a fixed bridge restoration. A fixed bridge restoration is a permanent solution, and feels and function in the same way as the natural teeth. Made from gold, porcelain, or a combination of these materials, a fixed bridge is designed to fill the gap left by your missing teeth by attaching to an existing or installed solid tooth structure in the mouth.
Why is it important to replace missing teeth?

It's very important to fill in gaps left by missing teeth so that your remaining teeth don't shift, leading to crookedness and more gaps. Crowns and bridges can help to provide stability and restore function and are also highly effective in improving the overall appearance of your smile.
If you're missing teeth, you may have some difficulty in chewing and speaking. Bridges can help with these issues, and also help to alleviate stress in your bite while maintaining the shape of your face.
How should one take care of crowns and bridges?

To make sure that your crowns and bridges last for the long-term, it's important that you take good care of your oral health. Regular dental-checks up are also essential and will help to maintain the longevity of your crowns and bridges.
At Somerset Dental Care, we offer crowns and bridges made with high-quality materials. All of the crowns and bridges we offer are created and moulded uniquely for each patient to ensure maximum comfort.
Interested in finding out more about crowns and bridges? Contact us today and arrange a consultation.
Don't forget to share this via Twitter, Google+, Pinterest and LinkedIn.