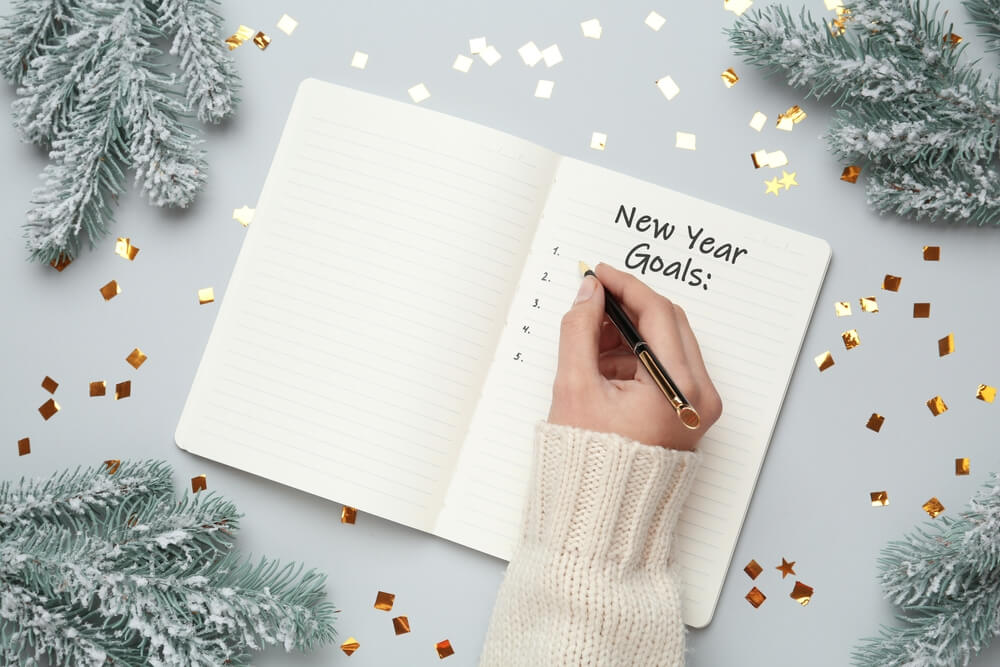 Resolving to improve your oral health in 2023 is a great way to start the new year. Look at some of our top tips to keep your teeth in excellent shape!
We all know we should brush and floss daily, but how many of us truly adhere to that? We see so many patients who claim to floss—however, their teeth tell a different story! Keeping your teeth healthy in the new year is a smart choice. In addition to keeping up with regular brushing and flossing, you can avoid costly dental problems in the future by making some simple lifestyle changes. Read through the list below to ensure you're taking good care of your teeth this year and looking forward to a healthier 2023.
Improve Your Diet and Increase Your Hydration
One common recommendation for a healthy diet is to avoid sugar. Sugary foods and beverages can cling to your teeth and create bacteria. This can lead to tooth decay and other oral health problems. A diet that cuts back on sugary foods and drinks will help you improve your dental health.
Indeed, the best way to keep your teeth and gums healthy is to limit your sugar intake. Ideally, your sugar intake should be less than 10 percent of your total daily calories. You can achieve this by drinking more water, avoiding desserts, and consuming less soda.
Increasing your water intake is also a great way to improve your oral health. Not only does water keep your mouth hydrated, but it also helps to wash away bacteria and bad bits of food from your teeth.
Brush, Brush, Brush!
Choosing to brush twice a day is one of the most important things you can do to improve your dental health. It will keep your teeth and gums healthy, and it will also help you maintain overall health. Brushing your teeth twice a day will help to remove bacteria and plaque from your teeth. You should also floss at least once a day. This will help to prevent cavities and gum disease. Additionally, we highly recommend rinsing with an antibacterial mouthwash.
Quit Smoking
We know, we know—it's hard. Tobacco, on the other hand, is harmful to both your overall and dental health. Tobacco damages your oral health by staining your teeth, causing you to lose teeth, and affecting your overall health. Tobacco can also cause mouth pain and irritate your gums.
Whether you're a cigarette smoker, a smokeless tobacco user, or both, smoking can harm your oral health. It can cause gum disease, mouth cancer, and other dental complications. In fact, the risk of dying from oral related cancer is 10 times higher in male smokers than in non-smokers. It is difficult to quit tobacco, but you can take steps to minimise your risks. Medical interventions to help you quit smoking may include counseling, pharmacotherapy, self-help materials, and referrals to support services. Chat with your GP for more information!
See Your Dentist Twice A Year
Another good way to keep your teeth in good shape is by ensuring that you're attending your twice-yearly dental appointments. Many people put off going to the dentist until they're in pain, which isn't a great way to deal with your dental health. Seeing a dentist every six months means that we will be able to spot any problems before they become serious, which will prevent those issues from becoming expensive and painful!
How Can We Help?
Ultimately, there are many things you can do to improve your overall oral health. In addition to limiting your intake of sugar, you can also improve your dental health by making the time to brush your teeth and visiting your dentist at least twice a year. To make this easy, you can request an appointment online or simply give us a call. We will have a good look at your teeth and make sure that any potential problems are dealt with as swiftly and painlessly as possible.
To learn more about our treatments, please have a look here.
To schedule an appointment, please call 02 4648 0909 or get in touch here.
Don't forget to share this via Twitter, Google+, Pinterest and LinkedIn.