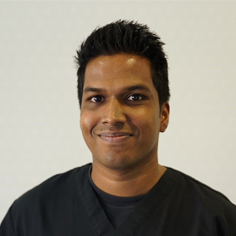 B.Dent, B.Mscien, Mstr.Pubhealth
With two Degrees in Dentistry and Medical Science, and a Masters of Public Health, Dr. Shakti Gounden strongly believes in development, both professional and personal.
Apart from an impressive academic record combined with over 4 years' experience as a practicing dentist, it was the opportunity to contribute and be part of community health programs that allured Dr. Shakti Gounden down his chosen career path. But the cherry-on-top for Dr. Shakti Gounden is being able to meet and interact with people from the local community, and putting them at ease with their procedure. A love for the technical aspects of dentistry make each day of work as interesting as the last.
But it's not all teeth, fillings and drills for Dr. Shakti Gounden. When it's time to unwind, nothing soothes his soul better than listening to music and meditating, especially after getting off a sports field. He's not particular about the type of sport either, you name it and he'll play it.